realme C3 is the brand's entry-level bet for 2020, featuring triple cameras, high capacity battery, and performance previously expected only on lower-mid to mid-range phones. Back in December 2018, the brand rose to the top of online sales charts by launching the realme C1, changing the landscape of entry-level smartphones by offering it at a ridiculously low price of only PHP 5,990 (USD 117).
Two months into 2020, we are eager to see what realme has to offer: can it keep the pace in delivering value for money devices?
WATCH: realme C3 unboxing + hands-on first impressions review
realme C3 snapshot
Display: 6.5 inches; 720 x 1600 pixels; IPS LCD; Gorilla Glass 3
OS Android 10 (Q); realme UI 1.0
CPU: Octa-core MediaTek Helio G70 (12nm)
Memory + storage: 3 GB + 32 GB
Camera: 12MP f/1.8 (wide) + 2MP f/2.4 (portrait) + 2MP f/2.4 (macro), 5MP (front)
Battery: 5,000 mAh; 10W
Price (Philippines): TBA (launching March 5, 2020) Php 5,990
Build quality, display
The moment I held the realme C3, all I could think of was how much it resembled the realme 5i. With the exception of the camera module, the two phones looked and felt almost exactly the same.
READ: realme C3 vs realme 5i: Which one is better?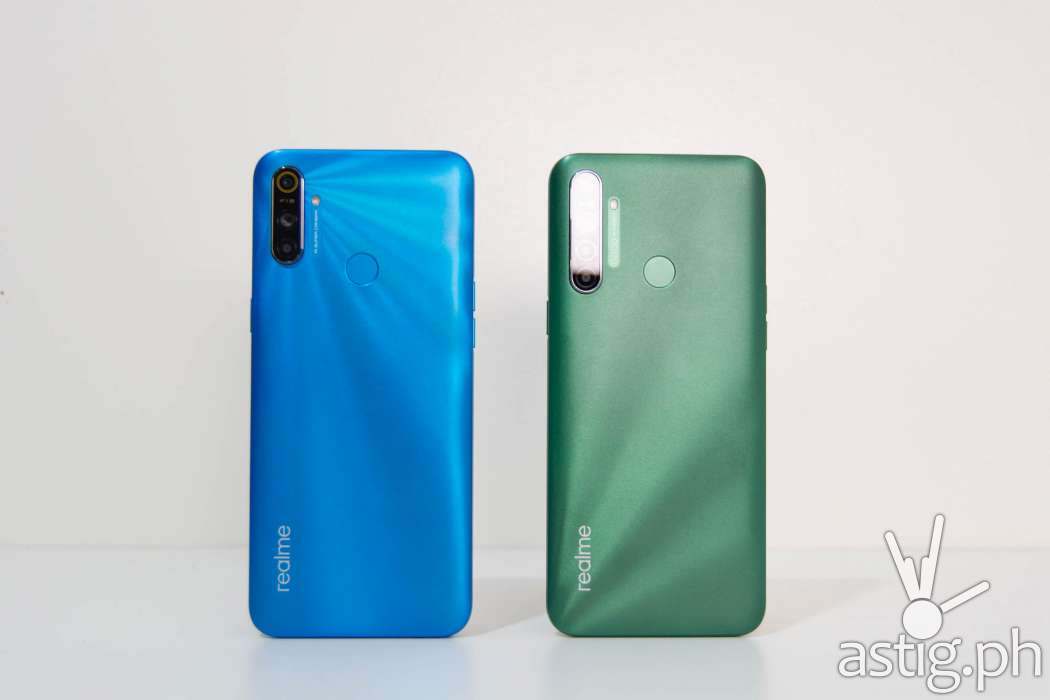 On the outside, realme 5i and realme C3 are almost interchangeable, from the 6.5-inch IPS LCD display with its "mini-drop" notch, to the placement of the buttons and the array of I/O ports at the bottom, down to the fresh-looking pattern on its fingerprint- and scratch-resistant chassis realme likes to call the "Sunrise Design".
A lot of the phones released between 2018 and 2019 followed the "glass and metal sandwich" trend: it's a low-hanging fruit that made phones appear more premium at the expense of durability.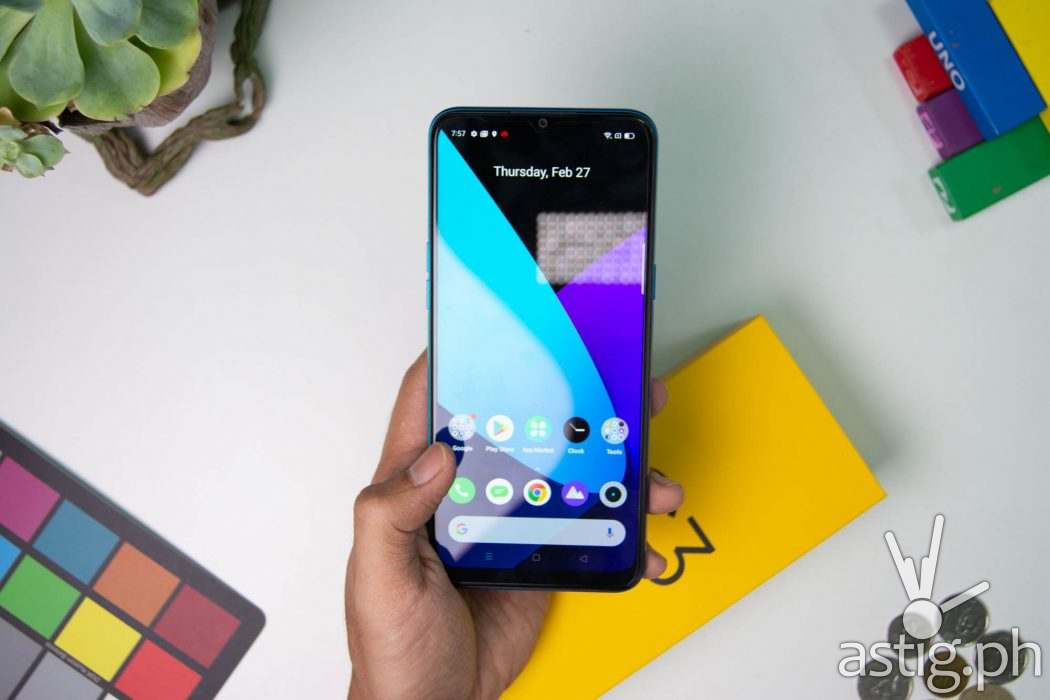 Unless the phone had wireless charging, glass offered no significant functional or performance benefit over plastic or metal backs other than aesthetics.
So manufacturers transitioned to "glasstic": plastic chassis polished and coated to look as glossy and shiny as glass. We've seen this trend in 2019 phones from Samsung, Xiaomi / Poco, Huawei / Honor, and even ASUS.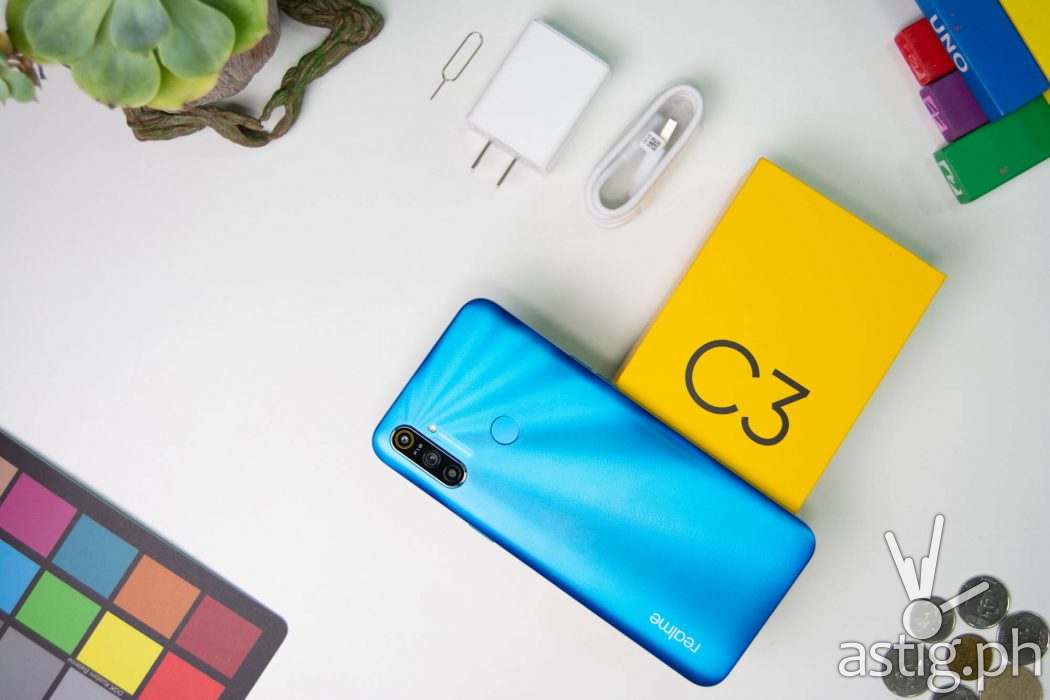 Sunrise Design appears to be realme's solution to the aesthetics vs durability puzzle: plastic that looks so good while offering functional benefits such as scratch resistance and fingerprint resistance. It's a genius move from realme.
READ: ZenBook Duo review: Are we ready for dual screen laptops?
In retrospect, we should be surprised it took so long for micro-patterns to appear in smartphones. The solution was staring us right in the face. Laptops have had micro-patterns plastic chassis for ages for this reason: just look at some of our laptop reviews and you'll see what I mean.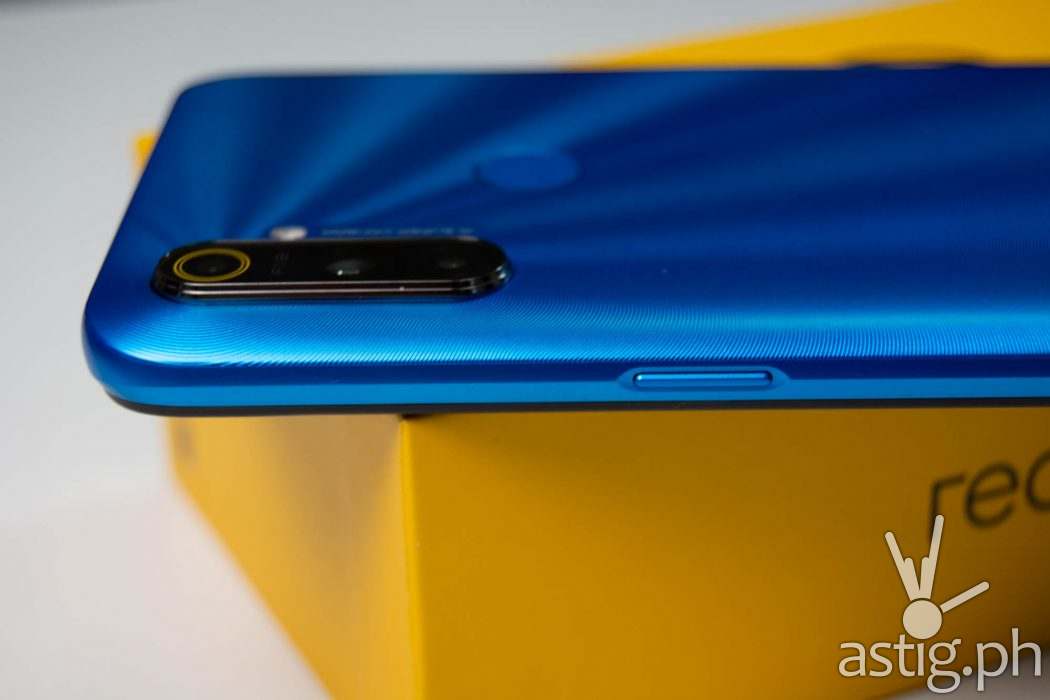 At 9mm thick weighing 195 grams, the phone is slightly thicker and heftier than its predecessors, though we're not bothered: this phone doesn't need a case, and it's a negligible trade-off for bigger batteries and better cameras.
The camera hump is slightly thicker than most, but that has been the trend so far this year: it's all about bigger and better cameras for better photos.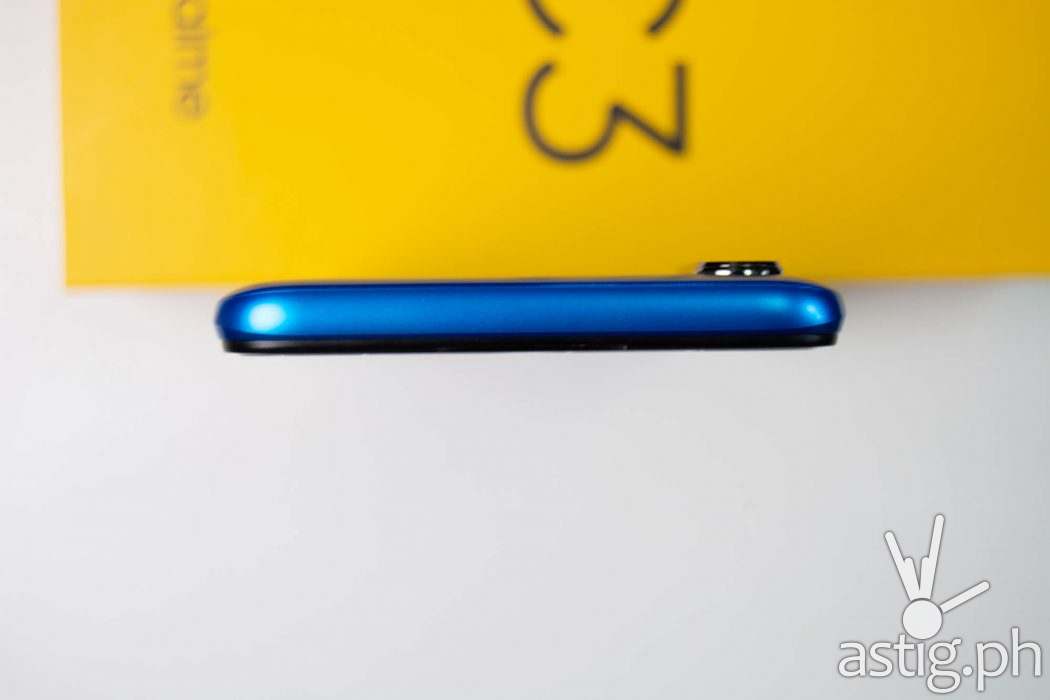 Thankfully, the display panel (digitizer) is much thinner than before, although it still lacks the smooth taper of curved edges seen in more expensive phones.
As usual for realme phones, the C3 comes with a plastic screen protector pre-installed out of the box, something that we've come to expect and appreciate from them. It may be trivial, but a perfectly installed screen protector one less thing to worry about and this kind of attention to detail shows that the company listens to its customers, and that they are willing to make an effort to add value to realme products.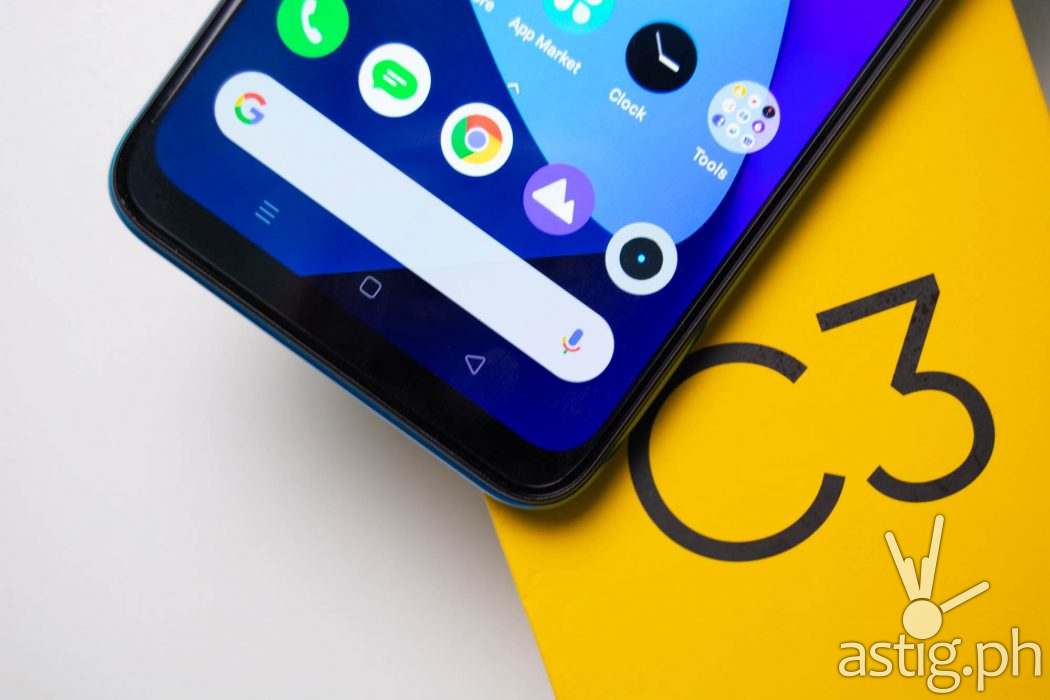 The notch is supposed to be smaller than the C2, though you can't really tell the difference unless you look really closely. I'm more bothered by the thickness of the chin at this point, which is saying something about how small and unnoticeable the notch has become. The "mini drop" notch is centered and unobtrusive, with the speakers lining the top edge of the panel. This is the best implementation as far as notch screens go.
realme C3 also hits the mark with other features such as dedicated dual SIM and expansion slots, rear-mounted fingerprint scanner, and a 3.5mm audio jack. Just like the screen protector, these are small details and useful that we appreciate from the brand. It's crazy how high end phones are stuck with single or hybrid SIM slots with no audio jack, when we have phones at the other end of the spectrum packing all of these features.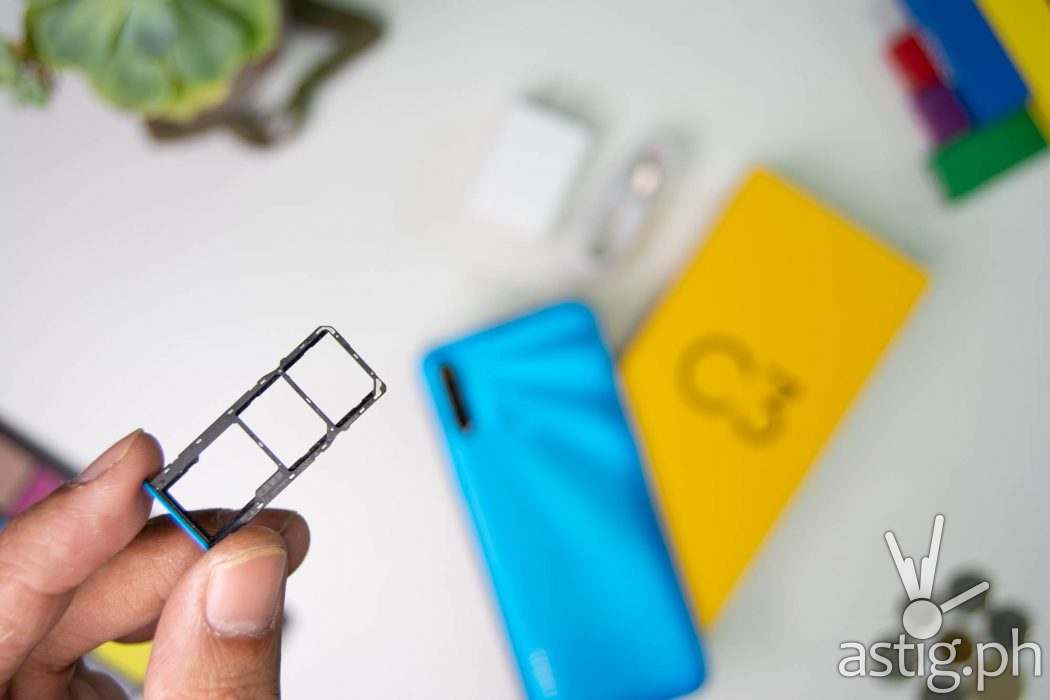 Application performance, benchmarks
realme C3 runs on the octa-core MediaTek Helio G70 chipset with 3GB of memory and 32GB of storage. We don't really see a lot of MediaTek phones nowadays – although their earlier chips had heat management issues, their later releases were actually quite good. Qualcomm needs someone to seriously challenge their dominance, so hopefully MediaTek can rise up to the occasion.
The Helio G70 chipset is supposed to be MediaTek's answer to Qualcomm's Snapdragon 665 – which, incidentally, can be found on the realme 5i and the Redmi Note 8.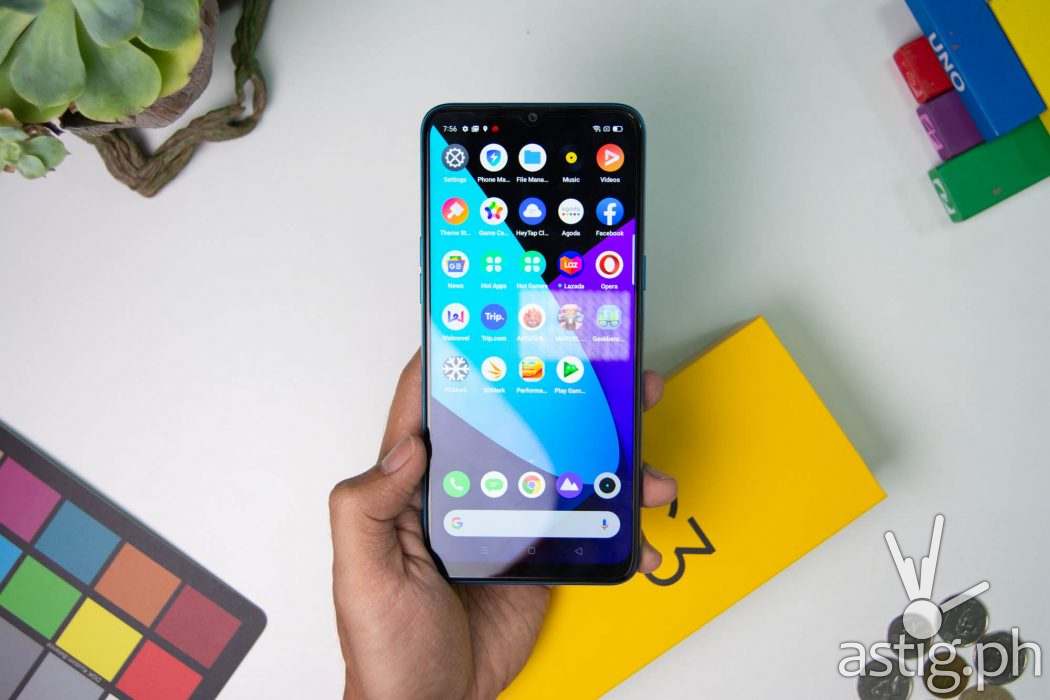 realme will be launching it in the Philippines on March 5 and is yet to reveal the price, but we feel comfortable in predicting that it won't go anywhere near the more powerful realme 5i, which launched at a price of PHP 6,990.
READ: realme C3 teased ahead of March 5 launch
For an entry-level phone, the C3 is generally responsive, and at times it feels a lot snappier than, say, the realme 5i. It could be due to shorter animation times and other optimizations that came with Android 10, though. I was able to task-switch pretty well after loading multiple apps. It's not super fast compared to higher-end phones, but it's manageable, especially if you consider the fact that it only has 3GB of RAM to work with.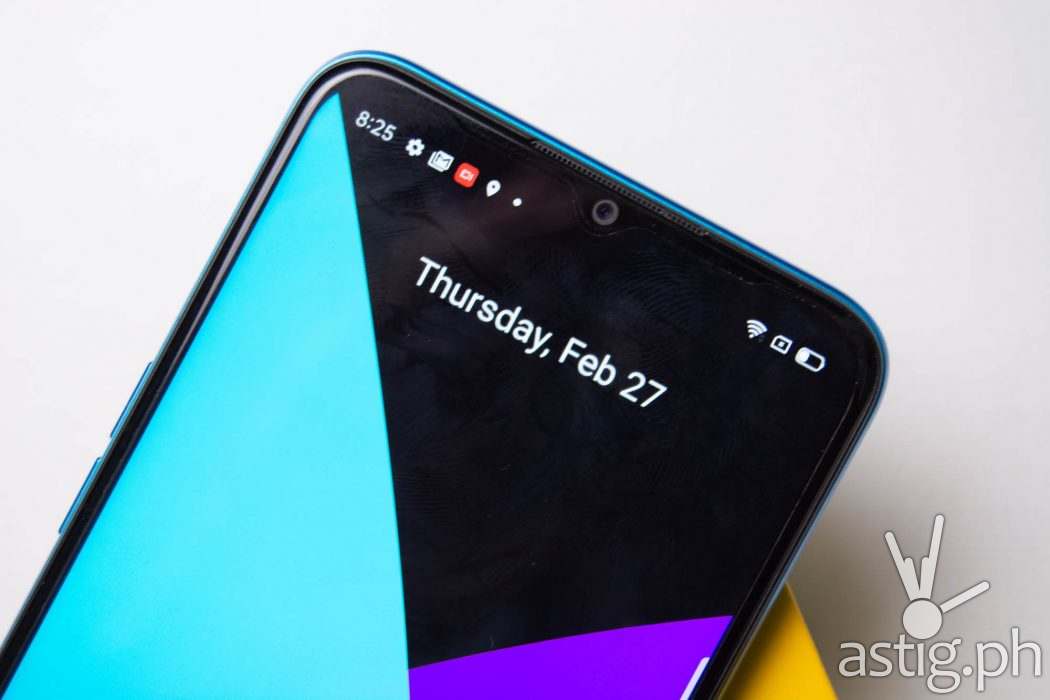 We are more concerned with storage speeds. Since we have limited RAM, the C3 is bound to start swapping once it runs out of memory. This is especially important when running  I/O-intensive operations such as image editing, video editing, and gaming. The phone manages alright in these areas, though at times we found ourselves waiting longer than usual for things to load and for our exports to finish.
Not to mention that 32GB of storage just doesn't cut it nowadays, especially for content creators like us. We ran out of space within a day. Sure you can sync your data to the cloud, but even cloud storage has its limits.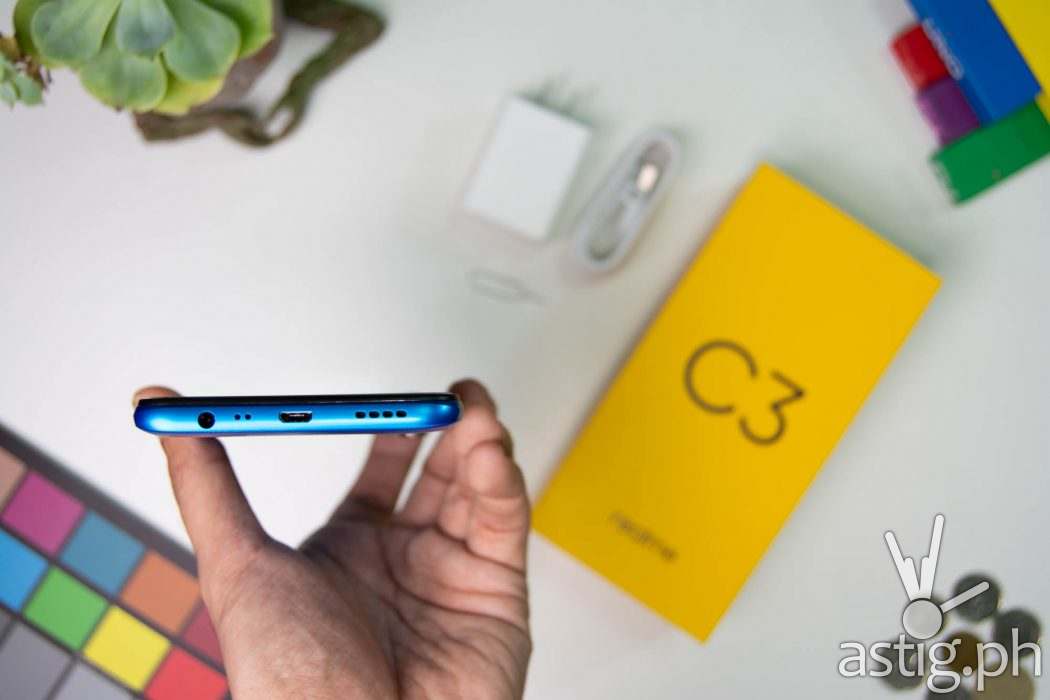 Still impressive for an entry-level phone. As long as we're talking about real-world use, the speed difference between a realme C3 and a flagship is noticeable, but it doesn't feel like a big gap as long as you are focused on a single application. To put it simply, I wouldn't trust the C3 for mission-critical work or competitive gaming, but if I didn't have anything else to work with – if the C3 was all I had, then I could work with it.
It's an acceptable compromise, especially once we factor the exponential price gap between the C3 and our reference flagship, which costs upwards of PHP50,000 (realme C3 price is yet to be revealed as of writing).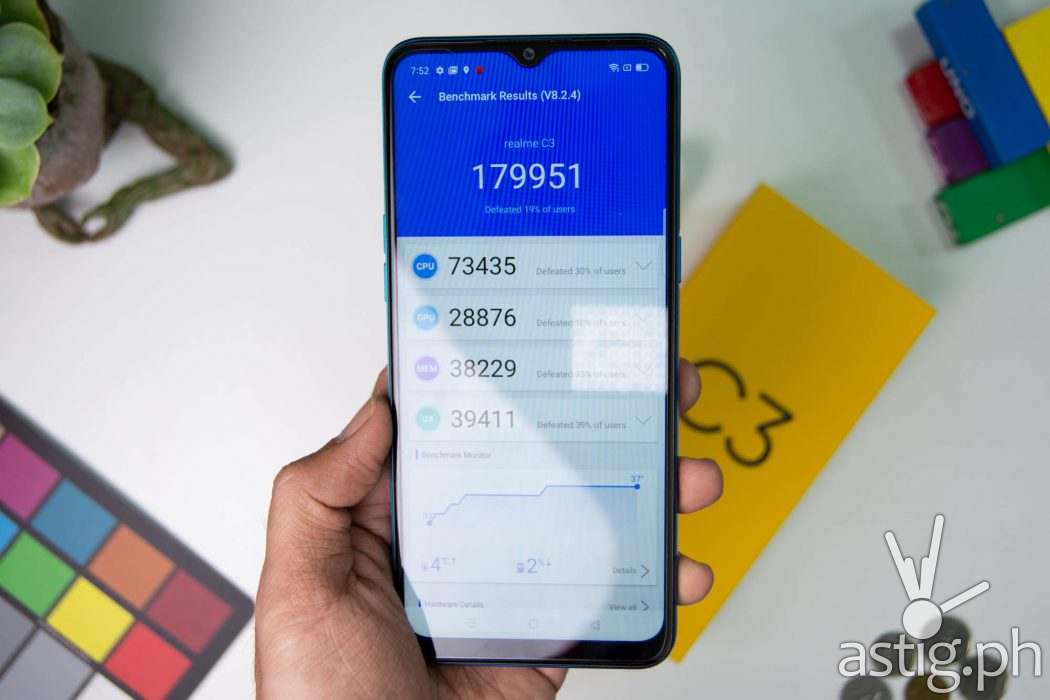 When it comes to synthetic benchmarks, the phone scores averages at around 170k in AnTuTu, though we managed to go as high as 179k, consistently edging out the realme 5i. However, AnTuTu also flagged a considerable rise in temperature by at least 3-6 degrees Celsius. Remember when we said MediaTek chips had heat management issues?
The extra speed is great, but hopefully the temperatures don't rise high enough to trigger CPU throttling. That would be a serious performance hit, especially in games.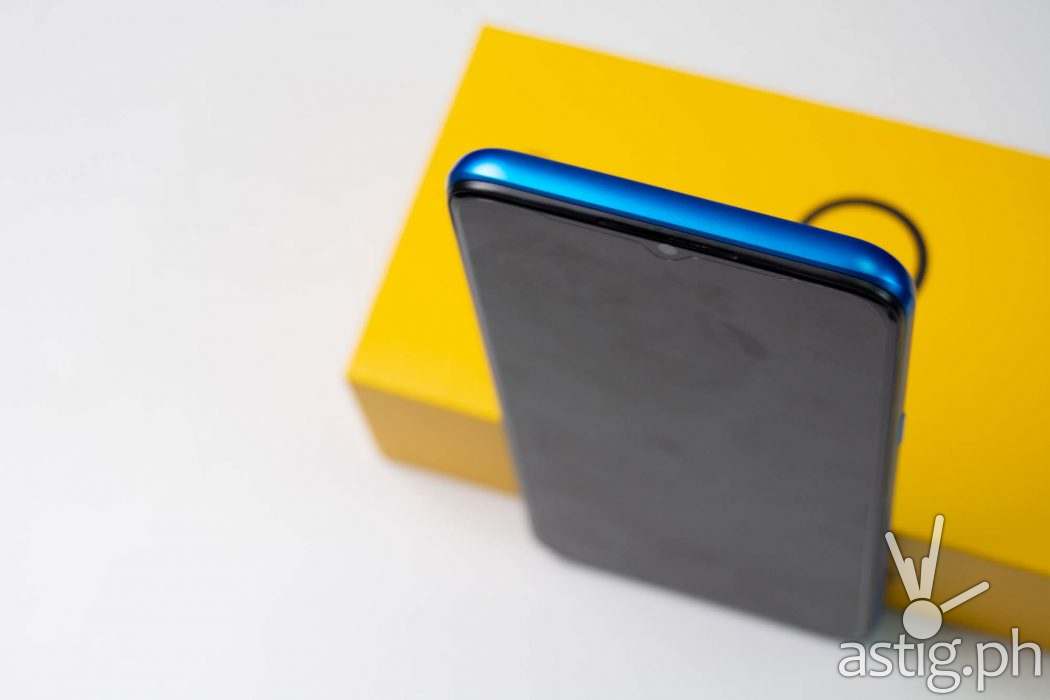 We are limited to 2.4GHz networks on the realme C3, which means you won't be able to take advantage of 5GHz Wi-Fi access points. It's not a huge loss since 2.4GHz access points are more widely available compared to 5GHz.
Gaming performance
We've had great results gaming on MediaTek chips before, and the Helio G70 is no exception. It easily ran any game we threw at it, including graphics-intensive games running Unity and Unreal Engine 4 such as Marvel Super War, Mobile Legends, Black Desert Mobile, Call of Duty Mobile, Lineage 2 Revolution, and more.
Using Marvel Super War as our reference, the C3 consistently did above 55FPS at maximum settings with everything enabled, including High Frame Rate mode. It takes a while to load the game though, and we see ourselves lagging behind in the loading screen. This is where disk I/O speeds and available memory become critical.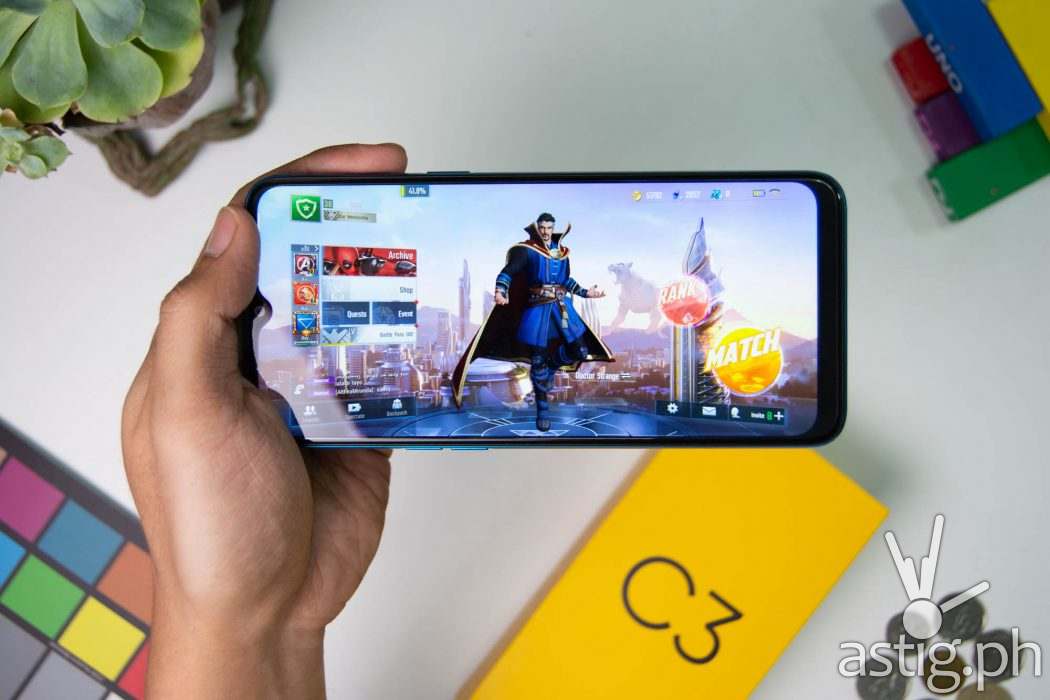 So for competitive, real-time gaming like PVP on MMOS, MOBAs, and FPSes where every frame counts, you may want to drop down to the next highest setting (High or Very High), but you can get away with Maximum settings on MMOs (farming or questing), puzzle games, and turn-based games.
Some games, like Call of Duty Mobile, automatically scans hardware configuration and limits your graphics options to low settings and medium frame rate, so keep that in mind.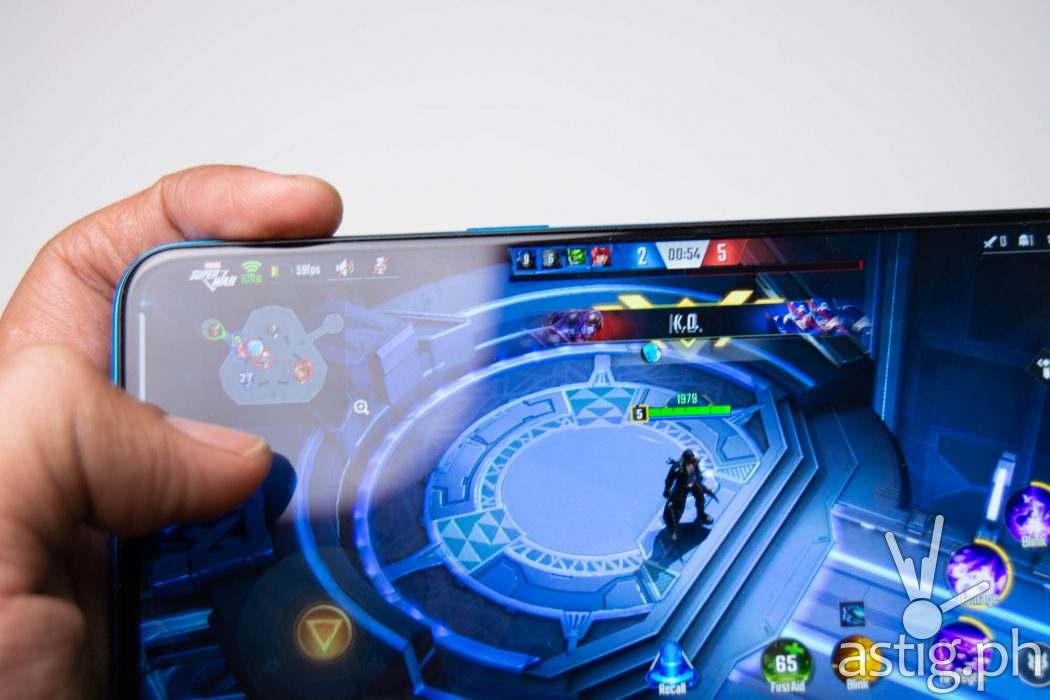 realme UI comes with Game Space, which lets you maximize gaming performance by allocating more resources to the game that you are playing and eliminating distractions such as popups and incoming calls. You can also capture screenshots and take a video recording of your gaming session with a few quick swipes.
There are also resource monitors for battery life and network connectivity. It would have been nice to be able to monitor frame rates as well.
Storage is also one limiting factor, and it's a big – or rather- a small one. Out of 32GB the system consumes 9GB, so are left with around 23GB of usable space. That's not a lot of room left for applications or games. Thankfully it comes with a dedicated expansion slot.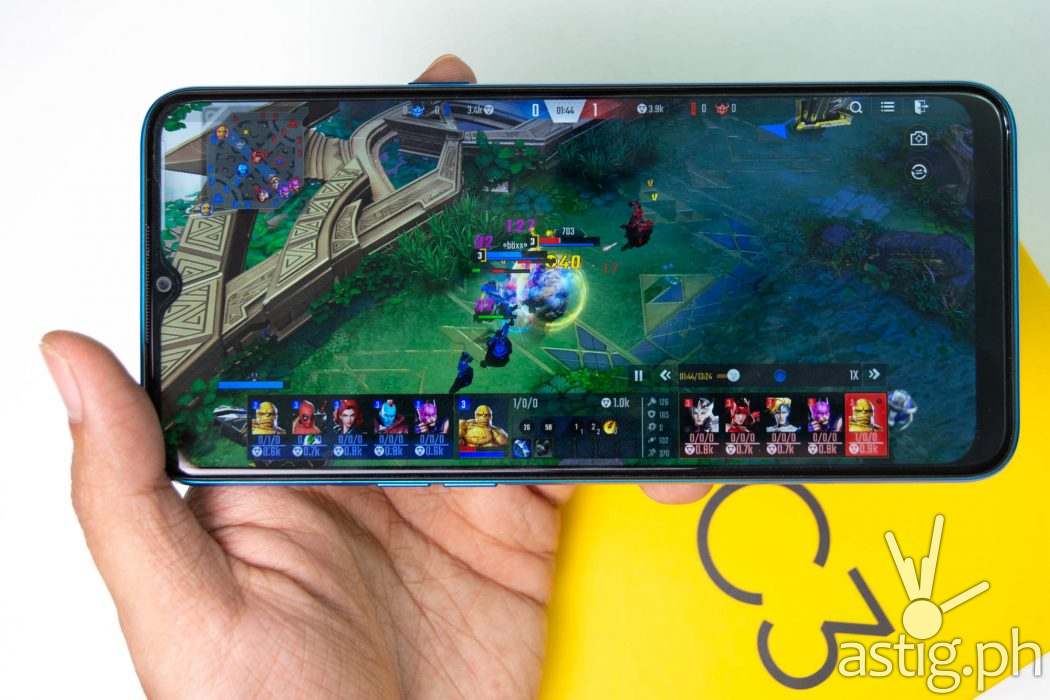 Entertainment, sound
The 720p screen on the realme C3 is big and bright. Colors are punchy and there is no noticeable backlight bleeding. We are only running in 720×1600, so if you look closely you are going to find aliasing along curved and diagonal edges.
It's not too distracting when using apps or watching shows, but it is quite noticeable in games.
Also, it's very easy to suppress the sound coming from the bottom-firing speakers. Even at maximum volume, all you have to do is put your finger over it.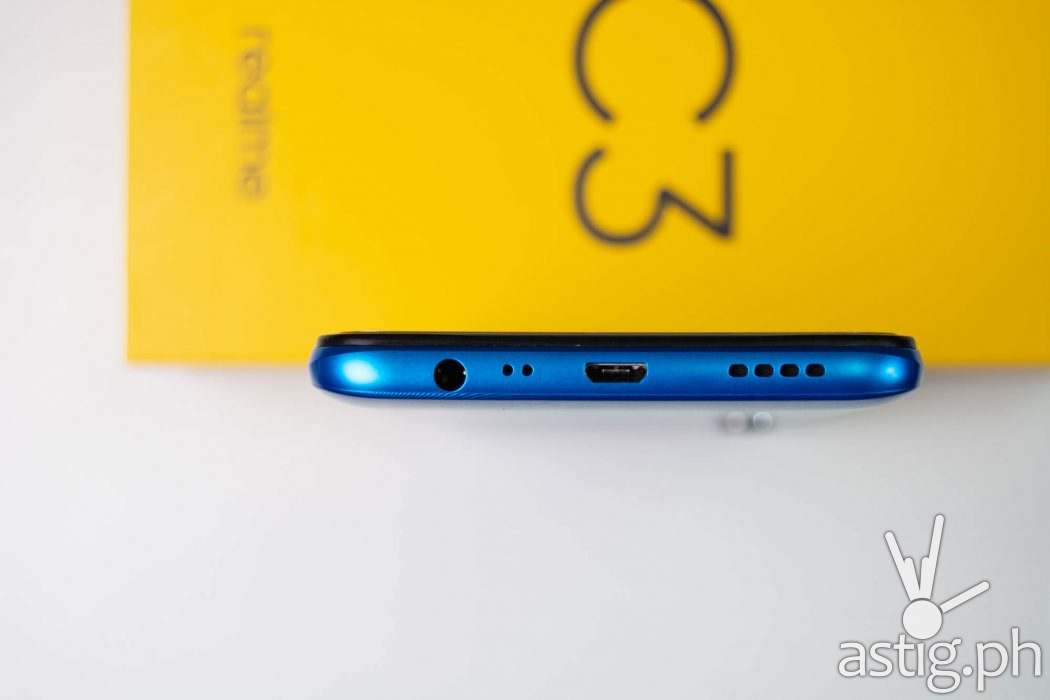 This becomes an issue especially with mobile games, which are usually played in landscape mode, so make sure to keep those earphones nearby when gaming.
Camera
realme C3 packs a triple-camera module, which includes a portrait / zoom lens and a macro lens in addition to the 12 MP f/1.8 main sensor. I predicted earlier this year that 2020 will be the year of the triple-camera, that it's going to be the standard, and it seems like we are right on track.
Also, 12MP is not so impressive now that 48MP and 64MP are the norm, so there isn't a lot of image data to work with. Even with its f/1.8 wide aperture, low-light shots take a huge hit from the lack of hardware image stabilization (OIS).
realme C3 shines in good lighting conditions. Well-lit subjects look sharp, colors and details are good and not overly-processed. It looks great for social media posting.
Photos taken in portrait mode are not that great, the loss of detail on the 2MP sensor is noticeably huge, and edge detection is not too accurate so we end up turning the bokeh effect all the way down.
Unfortunately the camera software doesn't allow depth effect on the 12MP sensor, but I'd rather shoot with it than lose important details.
Then there's the 2MP macro lens. You need a lot of light for it to work, and you need to shoot really still. Again, we only have a 2MP sensor, so we lose a fair amount of detail. It may actually be better to just shoot with the 12MP sensor and crop the photo in post.
The 5MP selfie camera handles human subjects quite well. Our photos come out looking bright, sharp, and detailed. With ample lighting we get a lot of usable shots for social media.
Video recording is capped at 30FPS and 1080p, and you can only shoot with the 12MP main sensor. It's good enough for everyday use like cat videos for your lolo and your lola.
Battery life
realme C3 packs a 5,000 mAh non-removable battery which, combined with power management improvements in Android 10 and minimal power draw from the 720p display, yields at least a day and a half of real-world mixed use – based on our experience, at least.
As of writing, we've only had the realme C3 for less than a week, and we're struggling to drain it. Our synthetic benchmarks predict over two and a half days of combined on-screen and idle usage.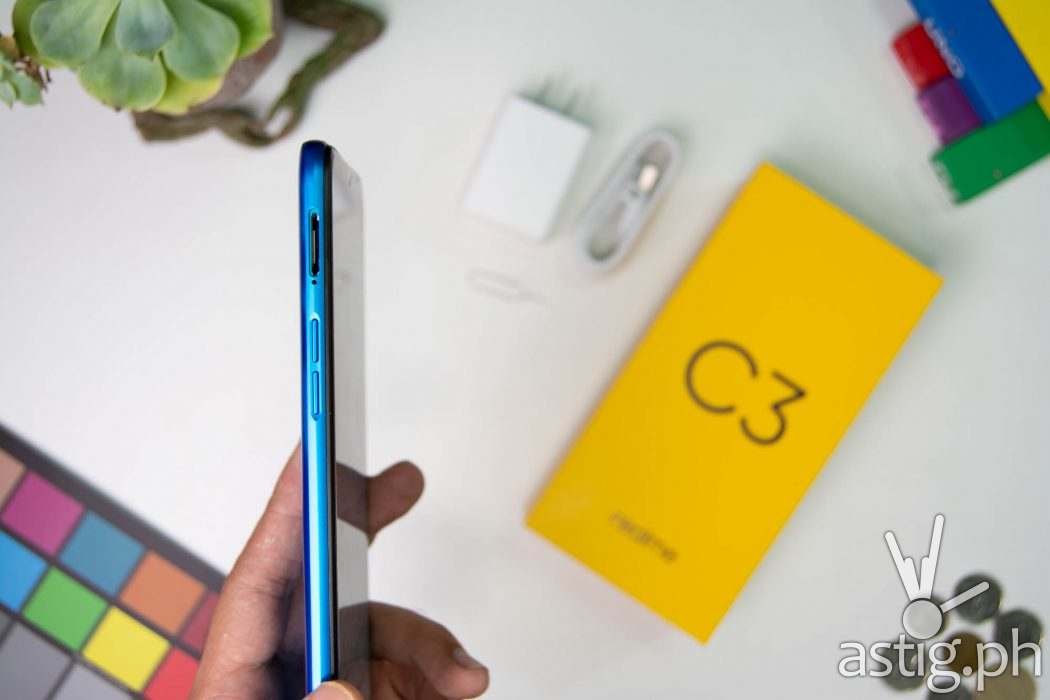 The phone struggles with dismal charging speeds, though. It took us nearly three hours to fully charge the C3 from a complete drain, and that's with the phone powered off.
With such a big battery you would think that the realme C3 could have at least some form of fast charging. It doesn't even have to be VOOC. Unlike Snapdragon counterparts, the Helio G70 chipset doesn't appear to provide built-in support for any type of fast charging, so the circuitry has to be off-loaded onto the adapter, which, then again, would be a hit on the cost of the product.
On the flip side, lower power draw preserves battery life, so I'd leave the phone overnight and not worry too much about battery degradation.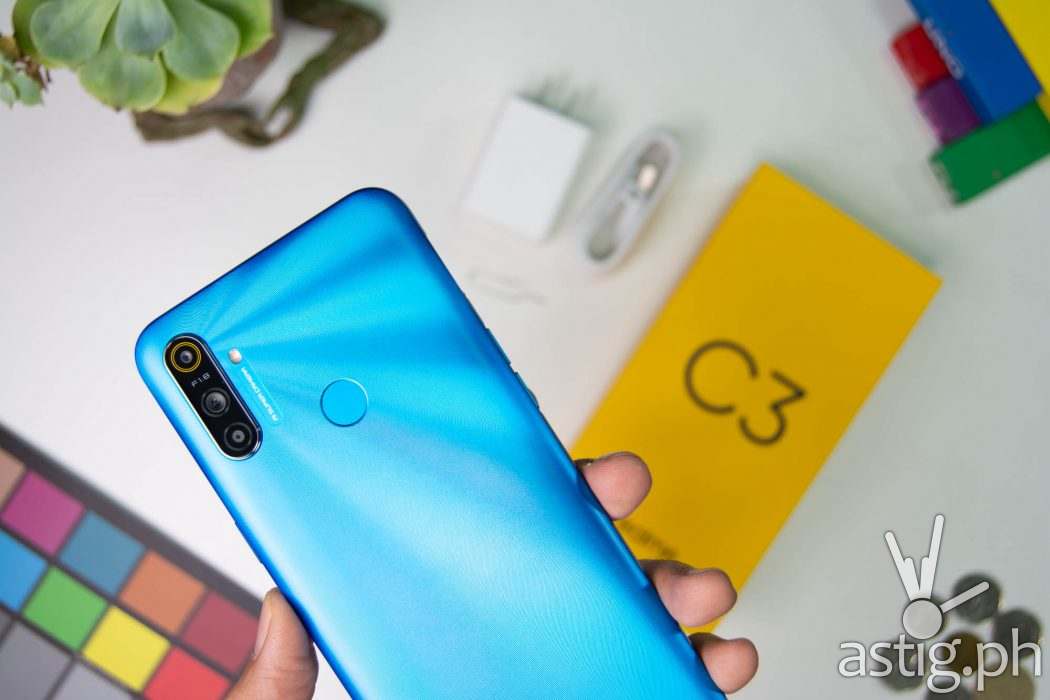 Benchmark results
AnTuTu: 179951 (overall); 73435 (CPU); 28876 (GPU); 38229 (memory); 39411 (UX)
PCMark Work 2.0: 835
PassMark: 8474 (system); 158403 (CPU); 11802 (memory); 49681 (disk); 7884 (2D graphics); 1858 (3D graphics)
3DMark: 1185 (Sling Shot Extreme – OpenGL); 1150 (Sling Shot Extreme – Vulkan)
GeekBench: 974 (OpenCL compute)
AccuBattery: 11h 26m (screen on); 545h 24m (screen off); 61h 29m (combined use)
GSam: 6d  1.2h – 3d 8.5h (active); 3d 5h – 21h 58m (screen on)
Verdict, price
realme made headlines when it arrived in the Philippines about a year ago, marking its debut with the realme C1, an entry-level Android phone priced at only PHP 5,990 (USD 117). This year, realme is once again challenging the status quo by offering good value, starting with the realme 5i and now with the realme C3.
Without factoring the price, the C3 is already a beautiful phone running on the latest, most optimized operating system. It handles graphics-intensive games fairly well, and it will last at least a day before you'll have to recharge.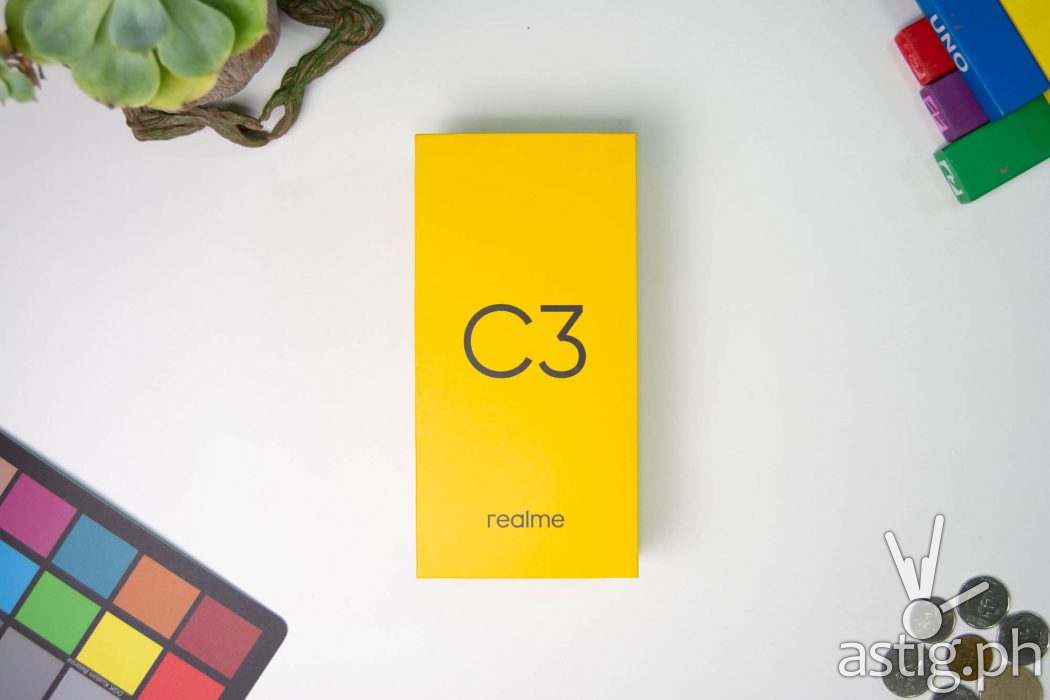 Compromises were made in certain areas such as camera, memory, and charging speeds, but they are manageable trade-offs for the target market that this phone is made for.
Then we have the question of the price, which is still under wraps until the launch on March 5. Historically, the realme C-series has within the 5,000-peso price range, never going above 6,000 pesos. Doing so venture too close to realme 5i territory and cannibalize its sales. We predict a launch price of around PHP 5,500 for the realme C3.
IF that happens, then we may have another strong contender for entry-level phone of the year in the realme C3.
Click play to watch the realme C3 unboxing + hands-on review video.
Pros

Attractive design that doesn't need a case
Up-to-date OS (Android 10, realme UI)
Excellent gaming performance
Long battery life
Affordable

Cons

Camera struggles in low-light
Low memory and storage
Long charging time
realme C3 specs (Philippines)
Display: 6.5 inches; 720 x 1600 pixels; IPS LCD; Gorilla Glass 3
SIM: Dual SIM (nano-SIM, dedicated slots)
OS Android 10 (Q); realme UI 1.0
Chipset (SoC): MediaTek Helio G70 (12nm)
CPU: Octa-core (2×2.0 GHz + 6×1.7 GHz)
GPU: Mali-G52 MC2
Memory (RAM): 3 GB
Storage (ROM): 32 GB
Expansion: microSD
Main camera (rear): 12MP f/1.8 (wide) + 2MP f/2.4 (portrait) + 2MP f/2.4 (macro)
Selfie camera (front): 5MP
Connectivity: 2.4 GHz Wi-Fi 802.11 b/g/n; Bluetooth 5.0
I/O: Micro USB; 3.5mm audio jack; rear-mounted fingerprint scanner
Battery: 5,000 mAh; 10W
Colors: Frozen Blue, Blazing Red
Price (Philippines): TBA March 5, 2020 Php 5,990
realme C3 sample photos